Hello everyone,
Sorry my blog post is a little later than usual this week but blogger was being a bit stupid and decided not to post the scheduled post. How is everyone? I hope you all had a fabby christmas and a happy new year? Did Father Christmas drop any crafty bits into your stockings this year?
Father Christmas was quite keen on dress up clothes in our house this year .....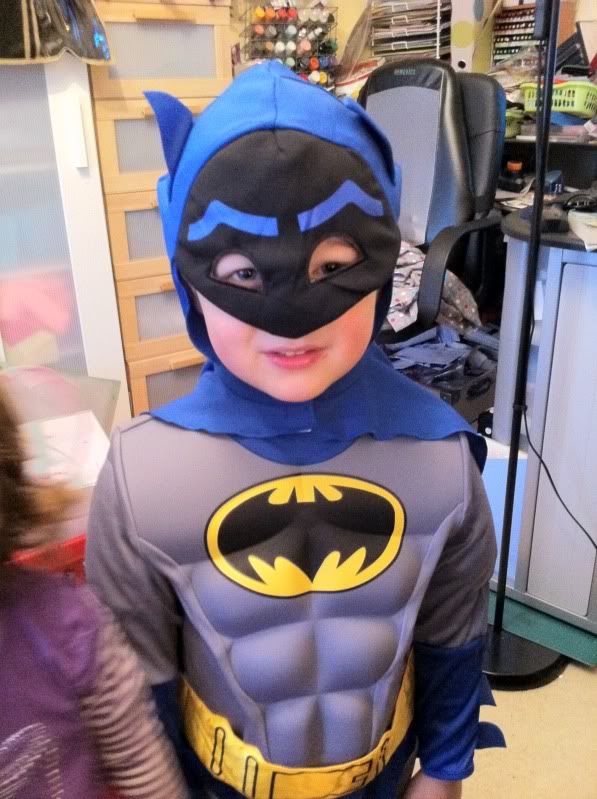 However there was on person who didnt get a christmas break. The lovely
Nikky Hall
worked all over christmas and new year to bring us all some gorgeous new products. She will be showing us all the new goodies on 2 shows on
C+C
tomorrow (Sat 8th Jan 12 and 3) so dont miss it! There are soooo many fab things on this CD I cant pick a favourite, but I will post some of my projects using it tomorrow.
The fabulous design team at
Polkadoodles
have designed New year wishes for the first challenge of 2011. My offering was "wedding themed" as my younger sister has just set a date for her wedding.
Traditionally wedding favors represent health, wealth, fertility, longevity and happiness and I wanted to interpret this into wishes.
I did this by making a takeaway box from
Paper Boutique: Creative Christmas
using paper from
Sugar Birdies Collectors Edition
. I threaded a bit of ricrac into the sides to made a handle (although this
ribbon
would look fab!). Finally to embellish the box I layered some
paper flowers
that I had coloured with
promarkers
(colours do match IRL but I took the pic very late at night) and topped with a
tiny pearl.
The fortune cookies were super simple to make and are sooo tiny. I punched some
2.5 inch circles
from some matching patterned paper (again from
Sugar Birdies Collectors Edition
)and wrote my wishes onto small rectangles of paper. Then i folded it in half without creasing (like making a mouth), popped the wish inside and then pushed the centre of the fold to make it fold onto its self. Finally I used a lttle bit of
wet glue
to stick the final fold together.
They look so cute and would lovely on a wedding table made in colours to match the wedding. Maybe with
one of these
tied to the handle?
Will be back tomorrow with some pics of the new CD projects. Take care everyone xxx