This week at Polkadoodles it was Claire's turn to set the challenge ....
With the release of the new CD, what better than a challenge this week to create a decorative item, could be an ornament, flowers, a box or hey start early on those Christmas decorations! So what can you come up with for my (Claire) decorative item challenge?
On one of my many blog surfing adventures I saw some beautiful folded paper flowers, I wrote down quick instructions on how to make them but forgot to save the site. I believe they are a form of Japanese paper folding?
Anyhow I decided that I would make a bunch of them flowers for this weeks challenge. They are very easy to make and take 5 squares of paper per flower. I wont write out the instructions as I dont want to bore everyone if you all know how to make them already but please leave me a comment if you would like me to write a "how to" post.
I printed a selection of papers from All around and Everywhere (2 different sheets back to back) and trimmed them into 2inch and 3 inch sqaure pieces. I then folded all the petals and assembled the flowers
Reminder to self - do not wipe your finger along a glued seam to "neaten" it when it has been glued with a hot glue gun
After I made 12 flowers (3 of each paper in the smaller size, and 3 large) I then had the realisation that i didnt actually think about how i was going to display them. I settled on putting them in a old water bottle which i had covered with patterned paper from Paper Boutique, I then printed the Vase from the Flower Bouquet 3 times, cut it out and taped them together at the edges to make a wrap around Vase for the water bottle
Unfortunately they dont look quite how i hoped displayed but I am quite pleased with the technique of them if nothing else.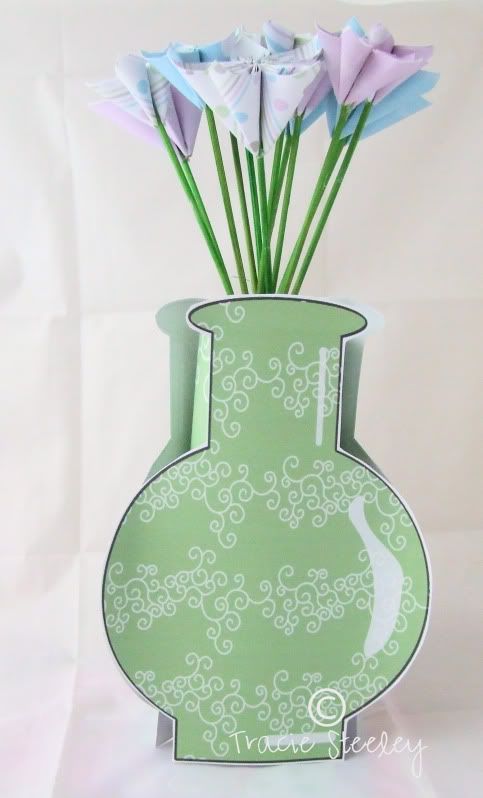 Dont forget to have a look at the
Polkadoodle blog
and see the other decorative items that the team have come up with this week. Also have you ordered the Newest Polka Doodle CD yet? if not check out my last post and have a look.