This week its Sue's turn to set the dare, and boy was it a toughy! Sue asked us to make cards with a touch of the far east...... but without using black or red!
Hmmm well that was all my lovely tattoo/sunset/etc ideas out the window.
Then it just so happened that I was looking on ebay for Momiji dolls (trying to convince the husband that i desperatly need some for my craft room) AHA! methinks, they be oriental, and funky coloured and not red and black (well apart from hair but sssh!)
So as usual (yawn!) I started with a small tall white card blank. I free hand drew the little doll shape onto patterned paper for her dress, cream card for her face and very dark (nooo sue its not black really) card for her hair. I also cut out a "arm" shape from the patterned paper. I stuck it all together, using 3d foam pads for a bit of extra dimension. I also used a black and red pen for the details on her face, a little pink ink for her cheeks, and a little green ink to edge the dress
Then I found a unopened pack of thickers felt stickers in exactly the right colour, During my sort out I found all sorts of products so am on a mission to use them. Happily these stickers were all the same case so I could use them without stress (see last weeks post!) So I decided on a simple miss you greeting. The card looked a little blank so i added little green and pink paper flowers, with liquid pearl centres randomly by the greeting and one in her hair.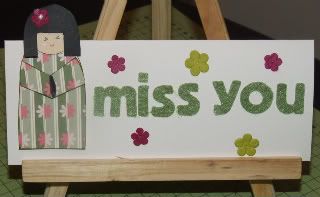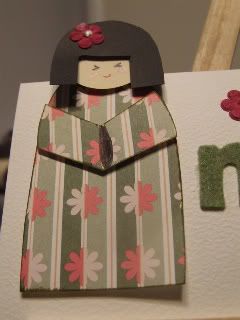 I have noticed my card style seems to be moving towards a more contemporary "white space" look at the moment hmmmm interesting.
Dont forget to surf on over to
DCM
to look at the other oriental delights on the menu. If you join in please leave a comment with a link to your card.
Take Care xxx